Prayer for anxiety
 prayer for anxiety?
Yes we have a sample prayer below here to help overcome anxiety in life.

My dear loving Father who is in heaven,
Let me take this opportunity to come before you through the name of our Lord Jesus,thanking you and praising for your Love.
Thank you for the grace that you have given me through Jesus Christ to see each day of my life.
I want to take this chance you have provided me to rebuke the evil and bad thoughts that are making me anxious about life. I know God that you have provided me with everything through Jesus Christ and I receive them in Faith and they are mine.
I praise and glorify you Lord,may you everlasting name be with me always and mercies follow me in all that I do for I pray and believe in the name Of Jesus,
Amen

prayer for anxiety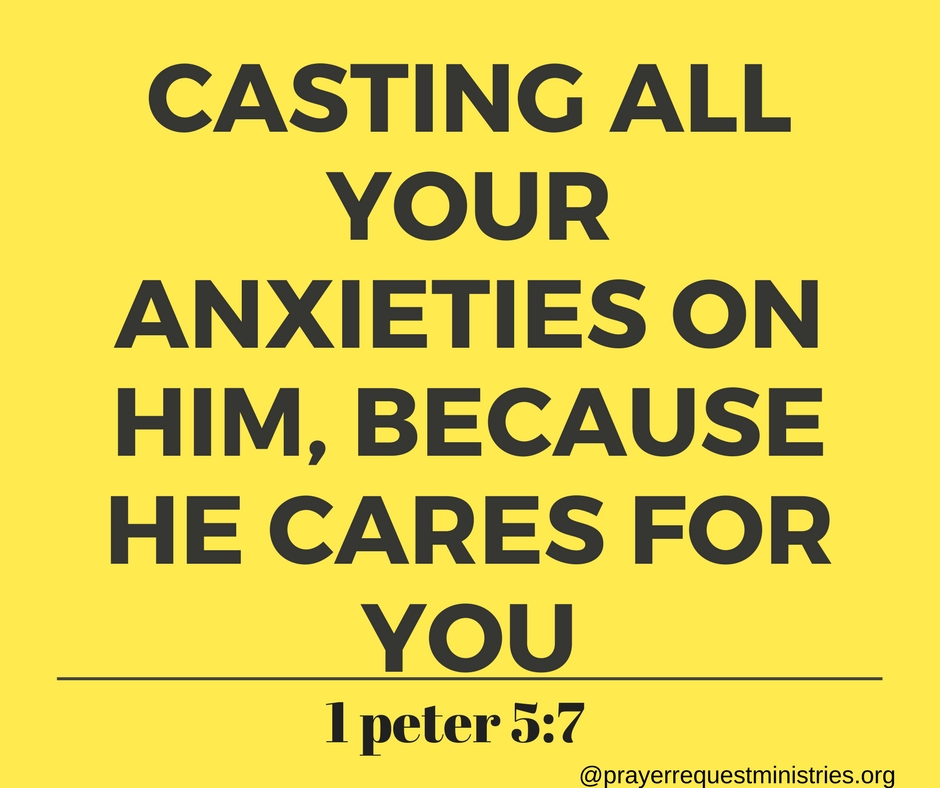 Let the Holy Spirit guide and help you to pray in the spirit.
The love of God spoke in the epistles of Paul as we read in the book of Philippians chapter four and verse six where the word of God says that and I quote...
........do not be anxious about anything, but in everything by prayer and supplication with thanksgiving let your requests be made known to God.
Have used the English reversed standards, where as other versions may use a different word but in the Greek the original word was merimnao which is commonly used in the New Testament to also mean be troubled with care,to look out for or to care about.
This reminds us everyday,how many things we care for.
Look around where you live, majority care about what they will eat,put on and drink
Which means they are caring for their needs. It is the will of God to care for our needs according to the richness in glory.
And my God will supply every need of yours according to his riches in glory in Christ Jesus.(Philippians 4:19)
That is the reason as to why, He is calling upon us to trust in Him and cast our cares upon Him for He careth.
casting all your anxieties on him, because he cares for you.(1 Peter 5:7)
God Himself has recommended ways in which we can cure the anxiety in our life.
He says by prayer and supplication with thanksgiving.
The Hebrew and Greek word for supplication that is used in the bible often is translated to mean asking for God.
Ask and it shall be given....let us read in Mathew chapter seven and verse seven which says..Ask, and it will be given to you; seek, and you will find; knock, and it will be opened to you.
Instead of worrying or being troubled to care about we just ask of God and all shall be given.
God goes further to say in the same book of Mathew that chapter seven that..For everyone who asks receives, and the one who seeks finds, and to the one who knocks it will be opened. 9 Or which one of you, if his son asks him for bread, will give him a stone? 10 Or if he asks for a fish, will give him a serpent?If you then, who are evil, know how to give good gifts to your children, how much more will your Father who is in heaven give good things to those who ask him.
The above words are life changing.
If we believe in them we shall never be anxious about life. We a thought of anxiety will crop up,you will immediately pray by asking of God.
That is when the anxiety will leave our lives.
Therefore make a prayer of asking to be a habit in your life by praying without ceasing.

prayer for anxiety
Return from prayer for anxiety to prayer request ministries -Home page

Send a prayer request

in the Email Today